WE ARE MADE BY OUR HISTORY
Our story starts at the end of the Second World War, when the company was founded by Sid and Gladys Davis in 1945. After 5 years of service Sid returned to his work as a Silversmith, taking basement premises in Percy Street just off Tottenham Court Road. He worked alongside his wife Glad, who had been employed in an aircraft parts factory during the war - which gave her the skills and speedy work ethic that would prove invaluable to the future of the firm.
Their son Andrew, better known as Drew, started working beside them in the 60s. Drew joined the company as a head strong teen with a mind for business. He showed impressive levels of initiative and drive, resulting in Sid changing the company name to S.F Davis & Son. Meanwhile Drew's fresh perspective guided the transformation of the business from mainly church work (manufacturing items like chalices, tabernacles, crosses, dishes and plaques), to a new focus involving investment in contemporary machinery and new techniques of manufacture. By 1970 the size of our growing work force prompted the move to larger premises in Lloyd Baker Street, where we remained for almost 20 years.
In 1988 the company relocated to its current premises in Charlton, with Matt, Tim, and Gerry joining the ranks of shareholders for the business in 2003. The company has continued to grow and evolve over the years, whilst always keeping the same ideals that led to our initial success. It was a risky move starting a metalworks business in a period of manufacturing decline, especially amidst the uncertainty of post war Britain - but through perseverance and adaptability Davis has remained to pass through the generations of the family. We're proud to be a fourth-generation family business.
"All that the firm is, and all that we are, is due to the hard work, suffering & sacrifice initially of two special people. Sid and Glad."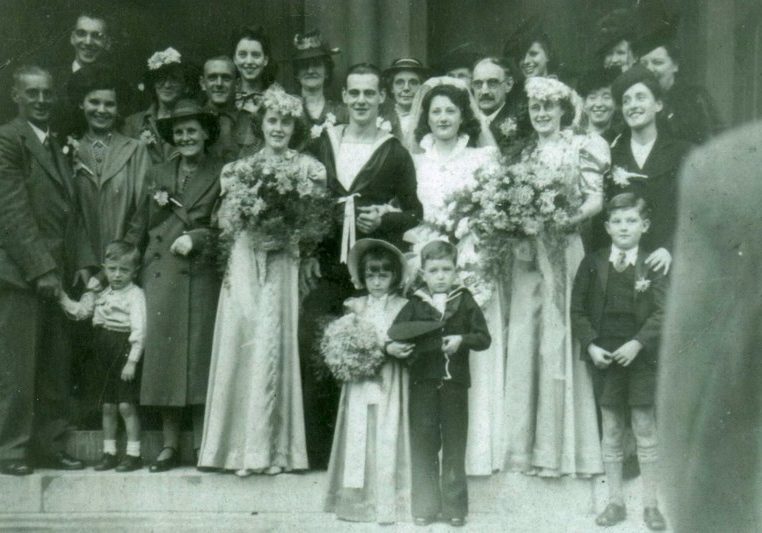 Sid and Gladys pictured above on their wedding day in 1944